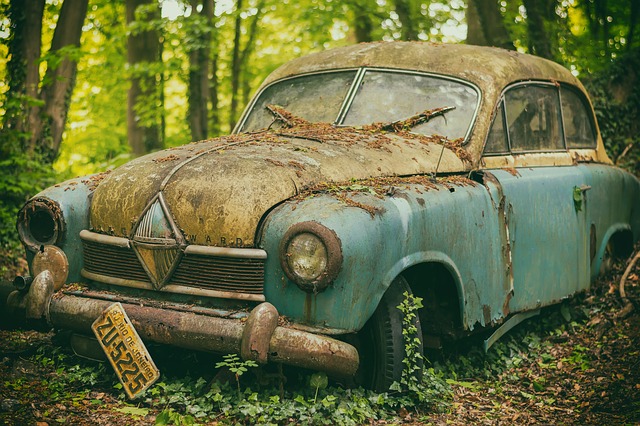 After deciding that you're going to sell your junk car, you need to figure out who to give it to. There are multiple options, each with their pros and cons. Here we will outline some of them to help guide you to the best decision for you. 
How do I get rid of my old car for cash?
Contact a national junkyard, junk car buyer, like Rusty's Auto Salvage, to get cash for your junk car quickly. Rusty's will tow the vehicle for free and take care of any DMV paperwork for you. National buyers can often pick the vehicle up that same day, or within 24 hours, and pay you on the spot. 
Some junk buyers may give you a lower quote than what your car is worth or give you a range and then low-ball you when they pick up the car. Make sure to contact a few retailers and read reviews to get the best value for your junk car. 
How do you dispose of a car?
You can always contact a local junkyard to see if they'll buy your old car. However, junkyards will likely give you the scrap metal value of your car and ignore anything of higher value -- like the computer system or newer tires. You may not get the best price if you use a local junkyard. 
A Junk Car Donation Service
Giving your car to a junk car donation service like Kars 4 Kids or Vehicles for Veterans is a great way to get rid of your eyesore of a vehicle and do some good as well. There are countless charity options to choose from, so you can find one close to your heart.
Donating your car will give you a tax deduction relative to the value of your junk car. Donated cars are often sold at auction. Based on IRS guidelines, if your car sells for more than $500, you'll receive a tax benefit equal to the value of the car. If your car sells for less than $500, your tax benefit will be for the determination of the fair market value of the car--which is up to $500.
Many charities will also tow your car free of cost. They'll take any car, in any condition, and give you back a tax deduction. Win-win! 
Do some research before you donate to make sure that the charity is a 501(c)(3) organization. This way you'll get the most value for your donation. And when you go to file your taxes, you'll have to itemize your deductions, rather than take the standard deduction, in order to get the benefit from the donation.   
Selling Junk Cars on Craigslist
Craigslist can be a good place to start if you're looking to sell the car yourself. In order to sell the car, make sure you have the title, registration, and bill of sale. It's also good to note the condition, mileage, year, and more. Buyers will want to see all angles of the car, so take lots of photos. It can take longer to sell a junk car on Craigslist, as private buyers are likely looking for cars in working condition, so give it a few weeks. Beware scammers! Make sure you're getting a legitimate bid before selling the car. 
Craigslist is likely better suited to those who have sold a junk car before and know the value of the car. If you don't, you could get ripped off by a scammer or never manage to sell the car. 
Are you ready to sell your junk car? Rusty's Auto Salvage is prepared to pay you cash for it today, and we may even be able to offer weekend service in your area. Visit our website or give us a call at 866-439-4401 to learn more.