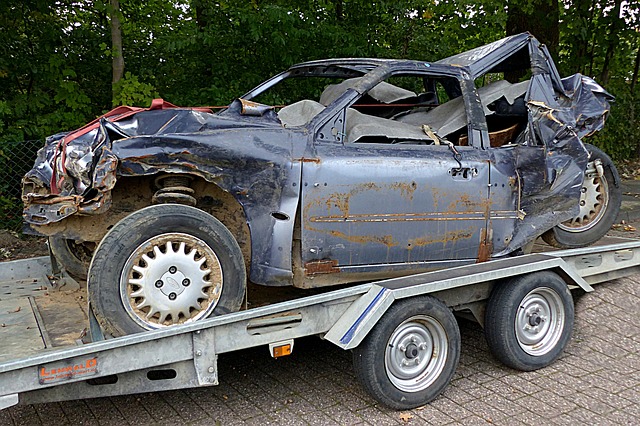 Owning a car is important -- after all you have to get from point A to point B -- but it can also be a source of major stress. Whether it's getting a new driver's license, registering your vehicle, renewing your plates, or making routine repairs, maintaining a car can be a lot of work.
Of course, some situations are especially stressful. Perhaps more than any other event related to your car, being involved in a serious automobile accident can be incredibly distressing and anxiety inducing. Assuming you didn't suffer any major injury yourself, you'll have to deal with the damage to your car afterwards.
Indeed, if you were in an accident in your car, it's almost certainly experienced some degree of damage. And, in many instances, a seriously damaged car can be said to have been "totaled" as the result of an accident. "Totaled" is actually a shortened slang term: the technical term here is a "total loss."
What exactly does it mean for your vehicle to be totaled? How do you know if it falls into this category? And, if it does, what can you do? If you have a totaled vehicle, then you're basically dealing with a junk car. What can you do if your car is now a junk car? Keep reading to learn more.
What Does "Total Loss" Mean?
Following an auto accident, it's common for your insurance company to send a so-called "assessor" out to inspect your vehicle. Their job is to take a look at your junk car and assess its current condition and corresponding value.
This person will determine whether or not your car is considered "totaled." There are three conditions that can render your car a total loss:
Your vehicle can't be repaired and made driveable again, given its current level of damage

The cost of repairing your vehicle would exceed its fair market value

The amount of damage to the vehicle is in excess of a specified percentage of the vehicle's value before the accident (this number varies by state)
How Does My Insurance Company Determine Pre-Accident Value?
In making the above assessment, your insurance company will have to determine the pre-accident value of your vehicle. They usually do this by taking into account its year, make, and model. They'll also use the car's pre-accident condition in making the calculation. They'll also need to know how many miles are on it, as well as any accessories or add-ons. All of these things combined will determine the "actual cash value" of your vehicle.


What Are My Options for My Junk Car?
If you had collision coverage on your vehicle, you're likely entitled to some form of reimbursement. If your car was totaled, you'll be entitled to the actual cash value minus your deductible. So, if the actual cash value was determined to be $5,000 and your deductible is $1,000, you'll probably receive a check for $4,000.
However, if your car's actual cash value is less than your deductible, you won't get any sort of compensation from your insurance company. And, if you just had liability coverage rather than collision, you won't be entitled to any compensation.



In these instances, consider contacting

Rusty's Auto Salvage.

If your car is totaled, it's officially reached junk car status. Rusty's makes it easy to

sell your junk car

for the maximum amount of cash. Visit our website to learn more.