Naples - sell your junk car fast
We'll give you cash today for your Naples, Florida junk car
We're going to be up front with you here. If you're spending cash trying to fix up a junk car, it's time to stop. The sooner you stop wasting your money, the better. Here's the thing: a junk car is never going to become a reliable vehicle. No amount of money or time will ever restore it to its previous condition. Sure, you could perform a long list of repairs and spend a ton of cash. But, guess what? At the end of the day, it's still going to be a junk car.
So, you've finally realized that you have to get rid of it. But, how? Is there anyone in the Naples area that would want to buy it? There sure is! We're called Rusty's Auto Salvage, and we can give you cash for your vehicle right away. In fact, we can pay more than anyone else in the Naples area. Even if your junk car doesn't run, we still want to buy it! We're an auto recycling company, so we don't care whether your vehicle is functional or not. That doesn't have any bearing on its value as far as we're concerned. If you're ready to get your cash within 24 hours, just call us at 866-439-4401!
Your car is worth plenty of cash
If you call around to some scrap yards in the area, they probably won't offer you much for your vehicle. That's because most scrap yards don't have the sort of national network that Rusty's Auto Salvage does. They'll offer you a small amount of cash, and they'll probably even ask you to pay for towing. To us, that's laughable!
Rusty's Auto Salvage loves paying top dollar for junk cars, and we're ready to put cash in your hand today. In fact, we can even tow your vehicle for free. That's because we've got a team of tow truck drivers ready to leap into action at the drop of a hat! We know that it's uncommon for junk cars to be driveable, and that's why we've built our business around the assumption that we'll need to tow your junk car for you. It's no problem at all for us! And when we arrive to tow your vehicle, guess what happens? You'll get cash for it instantly! No waiting, and no fear of a bounced check. What a deal!
Sell your junk car today: call 866-439-4401.
We buy junk cars for cash in Naples
You have to have a car in Naples to get around, but does it have to be a junk car? You've resigned yourself to driving your junk car until it just stops running, but what if we told you it's possible to get your hands on the money to buy something more reliable? We're Rusty's Auto Salvage, and we pay big bucks for junk cars. It's a good time to call us up to see how valuable your junk car is. You could have thousands in the bank in a day or two if you call us now. Who doesn't like the sound of a few thousand dollars in the bank?
How do I prepare to sell my junk car?
After you call us and accept the quote we'll give you for top dollar, you'll just need to get a couple of papers ready to hand over ownership of the vehicle. You're going to need your car's title and registration. If you're missing one or both of these papers, you can call your local DMV for help, or you can call Rusty's Auto Salvage for assistance at 866-439-4401.
You're then going to want to make sure that you remove the licence plates from your car before we haul it away, so that you can return them to the DMV after the sale.
That's about the extent of the work you're going to have to do to sell your junk car. There's no need to make a listing online, show the car to individual buyers, or call a junkyard. Just call us at 866-439-4401 to get a quote, set up a time, and then meet us with your car and papers and voilá! Your car has turned into a massive pile of cash.
Selling your car in Naples has never been easier
We never put our customers on hold, and never charge any extra fees. We do remove the car from anywhere in your area for free, and pay top dollar. With Rusty's Auto Salvage in town there's absolutely no need to call a junkyard or try to sell a junk car yourself. You're just wasting your own time. Call us now and you can have cash quick.
Still skeptical? Check out our reviews below to see how satisfied our customers are. You could be writing a rave review in a couple of days if you call us now.
Get cash in your pocket now. Call Rusty's Auto Salvage at 866-439-4401.
Rusty's Auto Salvage Has Bought Junk Cars From All Over The Area?
And to make the process easier and experience more enjoyable we also provide free towing. Our service of free towing can save you a couple to a few hundred dollars. Getting started on the road to getting paid for your junk car is as easy as a quick call to 1-866-439-4401.
Rusty's Auto Salvage Has Bought Junk Cars From All Over The Area?
And to make the process easier and experience more enjoyable we also provide free towing. Our service of free towing can save you a couple to a few hundred dollars. Getting started on the road to getting paid for your junk car is as easy as a quick call to 1-866-439-4401.
Rusty's Auto Salvage Values Your Time And Has Made Their Process Such That It Respects You?
We take the guesswork out. We will buy your vehicle regardless of the condition and are ready to pay you a lot of cash for your vehicle. Do you want to know today how much your vehicle is worth? Give us a call today at 1-866-439-4401 and five minutes of your time to give you a top dollar quote for free and with free towing!
What if I change my mind?
You can change your mind at anytime up until you sign the title over to us. Even if the tow truck driver has already shown up you can decide that you do not want to sell your car to us and cancel the transaction. Our goal is 100% customer satisfaction. We will work with you to make sure you are thrilled with selling you junk car.
What if I do not have keys?
If you are selling your car for the scrap value then missing keys will not impact the amount that we can offer. However if your car is in better condition we may be able to find a buyer for it. In that case not having keys will impact the value however, we can certainly purchase and tow away your car even if it does not have keys.
Are you going to throw my car away?
We never throw junk cars away. The name of the game is finding a new use for the car. This may mean fixing it so that it can be driven again, or it may mean recyling it. What we do with your vehicle is completely dependant on the condition, age, and weight of it, as well as the current price of scrap metals.
Am I able to sell a car if it has a broken engine?
At Rusty's, we have tons of buying partners who are more than willing to purchase a vehicle that does not run. Such buyers will happily take your vehicle and they will either invest money in it to fix it, or sell it for its usable parts. So if you've got a car with a busted engine, Rusty's is the best place to sell it!
Do I need a title for my junk car to sell it?
To get the most money for your junk car you are going to need a clean title for your vehicle. If you are missing the title or the registration you do not eed to worry if your junk car will sell. Our experts are happy to make an offer even if your are missing some paperwork. We can ehlp you get new paperwork or take care of it all together for a small fee. Call us today to get your top dollar quote.
Does tax deduction come with car donation?
If you are looking to get a tax deduction then you have to get in touch with your accountant first. Your accountant is the best person to clarify whether you are eligible for a big tax write off. Once this has been confirmed then you can get in touch with us and tell us and we will gather the needed documents. Through this you will be able to get rid of your old car without any obstacles.
Will I be given a receipt when I sell my car?
You will be emailed a receipt when you choose to sell you junk car. We email this within a day or two of selling your car. Remember that it is important to keep this receipt because you will need it to finish you release if liability paperwork. Call us today to learn more about the selling process and to get your top dollar quote today.
What documents are needed to sell my junk car?
If you want the most money for your junk car then you should attain the title to your car and the registration. If you have misplaced the title then go ahead and call your local DMV and they can help you. Sometimes they can even have the title mailed to you.
How will I be able to sell my totalled clunker?
It's not hard to sell your totalled clunker to us. We are a recycler of junk cars so if your car has been significantly wrecked it will not really matter to us as we are after the metal parts of your old automobile. We are interested in the car's weight make and model as these factors will determine your junk car's actual value. Call us today and learn how you can sell your totalled clunker at a top dollar quote.
Will you buy my hail storm damaged clunker?
We have purchased a lot of clunkers with dents and broken windows resulting from hail storms. These ice balls though small in size can cause a lot of damage to your car. Hail damage can scrape off the value of your vehicle and it will definitely ruin the looks of a good looking car. But hail damaged or not we will still buy your old unit with a top dollar quote.
Is it a quick process for me to receive my payment?
The sooner that you make your call to us then we can initiate the process and speed up the process for you to receive your payment. Generally speaking we can give you a quick free quote and facilitate towing and getting your payment to you within 24 hours or less. We know that is a fast process but we have removed the barriers that can slow the process down. Call us now and you will not have to wait long to get paid. In fact you may have hundreds or perhaps even thousands of dollars in cash ready for your wallet by tomorrow.
Can I sell my car if it is badly damaged by hail?
We have seen and purchased junk cars that have been seriously damaged by hail storms. One harsh storm can wreck a decent vehicle. We will assess the true value of your car in its current condition and offer you a fast top dollar quote. We will tow it away for free on top of giving you the best value around. Give us a call to learn more.
Is a voucher that is worth more than a cash value better than a cash payment?
You take your chances when you accept a voucher even if the value of it is enticing. There is no way for you to ensure that the vendors will accept the voucher on the terms that it is written or if they are even in business when you decide to use it. Like the saying that cash is king we recommend cash in your hand for the guaranteed amount of your offer. It is a cleaner and safer way to be compensated.
Is my signature needed to complete the sale of my junk car?
Yes as the legal owner of the junk car you will need to sign your title in order to transfer it to us so we need you to be present at the time that the tow truck operator picks up your vehicle. If you have a situation that prevents your presence or ability to sign your title please call and let us know. We will see what alternate arrangements we can make to ensure that our process for you to sell you junk car is as painless as possible.
Will parts for my car be for sale?
No. We buy junk cars but we do not directly sell parts. As the middleman we have a network of junkyards and buyers that will buy the vehicle for the purpose of reselling or recycling parts and if the vehicle is only salvageable for its metals then it will be transformed into scrap metal. This process helps us to sell your vehicle for top dollar.
Will you buy my junk car with damaged or cracked windows?
Yes we will buy your junk car even if it has damaged or cracked windows. There is greater value with the metals and other major components and so those will be factored into the price that we give you. But do not let any broken glass discourage you from selling your junk car because you think it will render your vehicle worthless. That is just not the case. You can still get a lot of cash.
Naples, Florida
| | |
| --- | --- |
| Longitude | -81.718299 |
| Latitude | 26.174397 |
| Income/Household | $0 |
| Population | 276002 |
| Elevation | 9 |
| Land/Water | 552.93 / 7.68 |
How to sign your Florida car title:
Review the images below for title signing instructions for your state. We make signing over your title easy. Just sign your name where the sample signatures are shown below. Please call our fiendly customer support staff if you have any questions.
Front of Title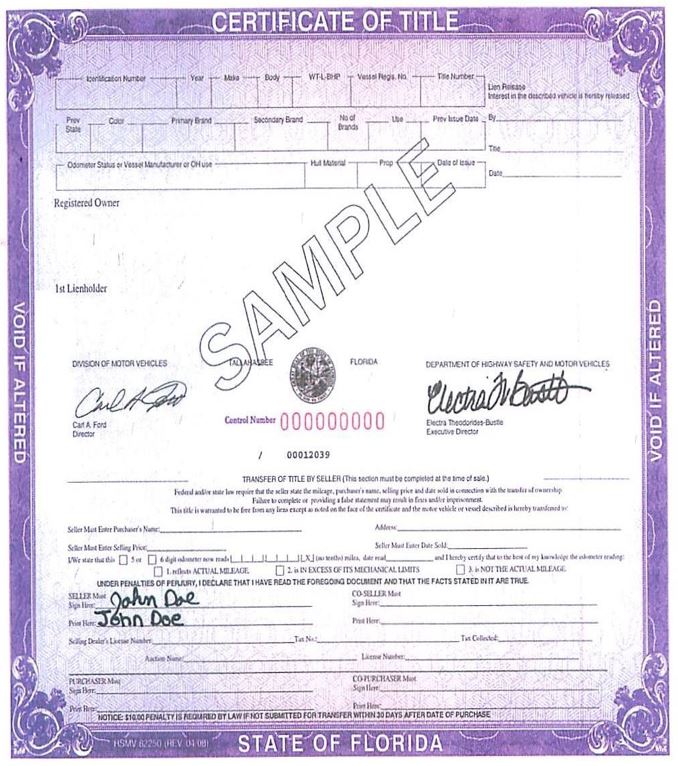 Back of Title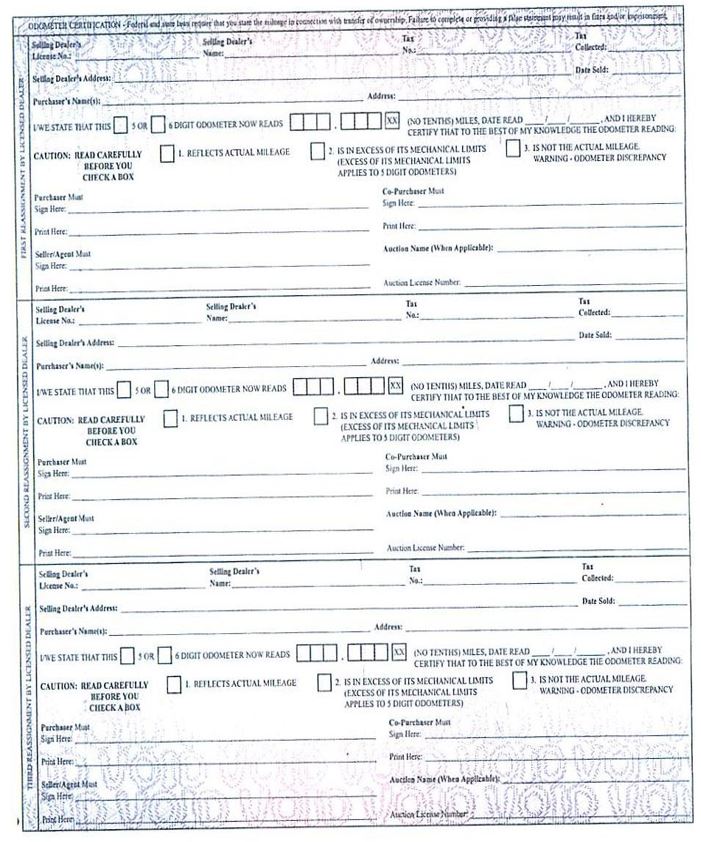 DMV Locations Near You:
Rustys Auto Salvage can pay you the most money if you have your title on hand when we pick up your car. If you need DMV paperwork find a Department of Motor Vehicles near your from the list below:
---
| | | | |
| --- | --- | --- | --- |
| City | Address | Zip | Phone |
| Hialeah | 1923 W 60th St | 33012 | (305) 229-6333 |
| Fort Myers | 4048 Evans Ave Ste 305 | 33901 | (239) 278-7421 |
| Silver Springs | 15956 E Highway 40 | 34488 | (352) 368-8200 |
| Ocala | 7135 N US Highway 441 | 34475 | (352) 368-8200 |
| Crawfordville | 202 Ochlockonee St | 32327 | (850) 926-6977 |
| Port Saint Joe | 130 Library Dr | 32456 | (850) 229-6213 |
| Tallahassee | 2900 Apalachee Pkwy Rm B133 | 32399 | (850) 617-2000 |
| Sarasota | 601 S Pompano Ave | 34237 | (941) 361-6222 |
| Belle Glade | 2976 State Road 15 | 33430 | (561) 355-2264 |
| West Palm Beach | 470 Columbia Dr Ste 200 | 33409 | (561) 640-6820 |
| Naples | 2348 Immokalee Rd | 34110 | (239) 596-2653 |
| Haines City | 930 Lily Ave | 33844 | (863) 421-3201 |
| Hialeah | 1550 W 84th St Ste 7576 | 33014 | (305) 822-6003 |
| Margate | 2500 N State Road 7 | 33063 | (954) 497-1570 |
| Live Oak | 215 Pine Ave SW Ste A | 32064 | (386) 362-2816 |
| Deland | 330 E New York Ave | 32724 | (386) 736-5332 |
| Bonifay | 224 N Waukesha St | 32425 | (850) 547-1115 |
| Gainesville | 6300 NW 13th St | 32653 | (352) 955-1960 |
| Crystal River | 1020 NE 5th St | 34429 | (352) 341-6500 |
| Melbourne | 2325 S Babcock St Suite B | 32901 | (321) 984-4910 |
| Big Pine Key | 201 Key Deer Blvd | 33043 | (305) 872-3653 |
| Tavares | 28129 County Road 561 | 32778 | (352) 742-6165 |
| Naples | 725 Airport Rd S | 34104 | (239) 434-4600 |
| Merritt Island | 1450 N Courtenay Pkwy | 32953 | (321) 455-1412 |
| Pinellas Park | 7651 US Highway 19 N | 33781 | (727) 570-5010 |
| Saint Petersburg | 4827 34th St S | 33711 | (727) 893-2746 |
| Key West | 3439 S Roosevelt Blvd | 33040 | (305) 293-6338 |
| Monticello | 500 W Walnut St | 32344 | (850) 342-0147 |
| Pembroke Pines | 15739 Pines Blvd | 33027 | (954) 497-1570 |
| Miami | 7700 NW 27th Ave | 33147 | (305) 693-6676 |
| Ocala | 2528 E Silver Springs Blvd | 34470 | (352) 732-1260 |
| Fort Walton Beach | 115D Racetrack Rd NW | 32547 | (850) 872-7745 |
| Brooksville | 11319 Ponce De Leon Blvd | 34601 | (352) 754-4230 |
| Clearwater | 4585 140th Ave N Ste 1002 | 33762 | (727) 507-4404 |
| Palmetto | 323 10th Ave W Unit 200 | 34221 | (941) 723-4551 |
| Deland | 1354 S Woodland Blvd | 32720 | (386) 736-5108 |
| Miami | 1315 SW 107th Ave | 33174 | (305) 229-6333 |
| Gainesville | 2815 NW 13th St Ste 302 | 32609 | (352) 955-2030 |
| Clermont | 2400 Us Highway 27 Ste 4205 | 34714 | (352) 241-4138 |
| Hollywood | 1926 Hollywood Blvd | 33020 | (954) 921-7080 |
| Hobe Sound | 8917 SE Bridge Rd | 33455 | (772) 546-7097 |
| Coral Gables | 401 Coral Way Ste 205 | 33134 | (305) 446-1776 |
| Tampa | 2814 E Hillsborough Ave | 33610 | (813) 276-5795 |
| Lauderdale Lakes | 2500 N State Road 7 | 33313 | (954) 497-1570 |
| Eastpoint | 731 US Highway 98 | 32328 | (850) 670-8511 |
| Fort Lauderdale | 1931 NW 9th Ave | 33311 | (954) 497-1570 |
| Yulee | 76347 Veterans Way | 32097 | (904) 548-4600 |
| West Palm Beach | 2900 Apalachee Rd | 33406 | (561) 540-1190 |
| New Port Richey | 4720 US Highway 19 | 34652 | (727) 847-8165 |
| Miami | 1834 NE Miami Gardens Dr | 33179 | (305) 947-4633 |
| Margate | 1135 Banks Rd | 33063 | (954) 969-4216 |
| Labelle | 100 Dr Martin Luther King Jr Blvd | 33935 | (863) 674-4022 |
| Palm Coast | 7 Old Kings Rd Ste 12 | 32137 | (386) 313-4160 |
| Lakeland | 930 E Parker St Ste 261 | 33801 | (863) 534-4700 |
| Kissimmee | 2890 N Orange Blossom Trl | 34744 | (407) 846-5250 |
| Gainesville | 5301 NE 39th Ave | 32609 | (352) 334-1760 |
| West Palm Beach | 470 Columbia Dr | 33409 | (561) 640-6820 |
| Tampa | 5701 E Hillsborough Ave | 33610 | (813) 612-7110 |
| Margate | 1135 Banks Rd | 33063 | (954) 969-4216 |
| Hialeah | 1923 W 60th St | 33012 | (305) 229-6333 |
| Fort Myers | 4048 Evans Ave Ste 305 | 33901 | (239) 278-7421 |
| Silver Springs | 15956 E Highway 40 | 34488 | (352) 368-8200 |
| Ocala | 7135 N US Highway 441 | 34475 | (352) 368-8200 |
| Crawfordville | 202 Ochlockonee St | 32327 | (850) 926-6977 |
| Port Saint Joe | 130 Library Dr | 32456 | (850) 229-6213 |
| Tallahassee | 2900 Apalachee Pkwy Rm B133 | 32399 | (850) 617-2000 |
| Sarasota | 601 S Pompano Ave | 34237 | (941) 361-6222 |
| Belle Glade | 2976 State Road 15 | 33430 | (561) 355-2264 |
| West Palm Beach | 470 Columbia Dr Ste 200 | 33409 | (561) 640-6820 |
| Naples | 2348 Immokalee Rd | 34110 | (239) 596-2653 |
| Haines City | 930 Lily Ave | 33844 | (863) 421-3201 |
| Hialeah | 1550 W 84th St Ste 7576 | 33014 | (305) 822-6003 |
| Margate | 2500 N State Road 7 | 33063 | (954) 497-1570 |
| Live Oak | 215 Pine Ave SW Ste A | 32064 | (386) 362-2816 |
| Deland | 330 E New York Ave | 32724 | (386) 736-5332 |
| Bonifay | 224 N Waukesha St | 32425 | (850) 547-1115 |
| Gainesville | 6300 NW 13th St | 32653 | (352) 955-1960 |
| Crystal River | 1020 NE 5th St | 34429 | (352) 341-6500 |
| Melbourne | 2325 S Babcock St Suite B | 32901 | (321) 984-4910 |
| Big Pine Key | 201 Key Deer Blvd | 33043 | (305) 872-3653 |
| Tavares | 28129 County Road 561 | 32778 | (352) 742-6165 |
| Naples | 725 Airport Rd S | 34104 | (239) 434-4600 |
| Merritt Island | 1450 N Courtenay Pkwy | 32953 | (321) 455-1412 |
| Pinellas Park | 7651 US Highway 19 N | 33781 | (727) 570-5010 |
| Saint Petersburg | 4827 34th St S | 33711 | (727) 893-2746 |
| Key West | 3439 S Roosevelt Blvd | 33040 | (305) 293-6338 |
| Monticello | 500 W Walnut St | 32344 | (850) 342-0147 |
| Pembroke Pines | 15739 Pines Blvd | 33027 | (954) 497-1570 |
| Orlando | 4101 Clarcona Ocoee Rd | 32810 | (407) 445-7400 |
| Jacksonville | 3200 Armsdale Rd Ste 13 | 32218 | (904) 924-1524 |
| Tampa | 5701 E Hillsborough Ave | 33610 | (813) 612-7110 |
| Green Cove Springs | 875 Leonard C Taylor Pkwy | 32043 | (904) 825-5080 |
| Ocala | 318 SE 25th Ave | 34471 | (352) 732-1267 |
| Deland | 1551 E International Speedway Blvd | 32724 | (386) 736-5350 |
| Naples | 3205 Beck Blvd | 34114 | (561) 357-4040 |
| Tallahassee | 2900 Apalachee Pkwy | 32399 | (850) 617-2999 |
| Jacksonville | 7322 Normandy Blvd | 32205 | (904) 695-4115 |
| Sarasota | 3844 Bee Ridge Rd | 34233 | (941) 361-6222 |
| Lakeland | 3247 Lakeland Hills Blvd | 33805 | (863) 499-2300 |
| Daytona Beach | 310 Jean St | 32114 | (386) 238-3140 |
| Jacksonville | 7439 Wilson Blvd | 32210 | (904) 777-2132 |
| Edgewater | 2986 S Ridgewood Ave | 32141 | (386) 423-7115 |
| Davie | 14190 W State Road 84 | 33325 | (954) 837-4000 |
| Gainesville | 6300 NW 13th St | 32653 | (352) 955-3181 |
| Panama City | 237 W 15th St | 32401 | (850) 872-7747 |
| Marathon | 3380 Overseas Hwy | 33050 | (305) 289-2383 |
| Tallahassee | 2100 Mahan Dr | 32308 | (850) 488-8676 |
| Fort Myers | 10041 Daniels Pkwy | 33913 | (239) 344-1730 |
| Pensacola | 150 Stumpfield Rd | 32503 | (850) 484-5000 |
| Ocala | 2528 E Silver Springs Blvd | 34470 | (352) 732-1260 |
| Venice | 4010 Tamiami Trl S | 34293 | (941) 483-5911 |
| Fort Pierce | 2929 N 25th St | 34946 | (772) 468-3967 |
| Brooksville | 11319 Ponce De Leon Blvd | 34601 | (352) 754-6767 |
| Pensacola | 185C Airport Blvd | 32503 | (850) 484-5011 |
| Marianna | 2863 Green St | 32448 | (850) 482-9524 |
| Brooksville | 17028 Ayers Rd | 34604 | (352) 797-5737 |
| Fort Pierce | 3220 S US Highway 1 | 34982 | (772) 460-3658 |
| Saint Augustine | 875 State Road 16 | 32084 | (904) 825-5080 |
| Gainesville | 5830 NW 34th St | 32653 | (352) 955-2111 |
| Blountstown | 20859 Central Ave E Ste 107 | 32424 | (850) 674-8242 |
| Panama City | 237 W 15th St | 32401 | (850) 872-7747 |
| Panama City | 6030 Highway 2321 | 32404 | (850) 872-4158 |
| Naples | 725 Airport Rd S | 34104 | (239) 434-4600 |
| Marianna | 3613 Highway 90 | 32446 | (850) 482-9602 |
| Miami | 1011 NW 111th Ave | 33172 | (305) 470-2500 |
| Jasper | 204 1st St NW | 32052 | (386) 792-1284 |
| Florida City | 1448 N Krome Ave | 33034 | (305) 229-6333 |
| Miami | 7795 W Flagler St Ste 82c | 33144 | (305) 265-3003 |
| Starke | 945 N Temple Ave | 32091 | (904) 966-6296 |
| Lake Butler | 55 W Main St Rm 108 | 32054 | (386) 496-3331 |
| Hialeah | 18400 NW 75th Pl Ste 106 | 33015 | (305) 229-6333 |
| Clearwater | 1663 Gulf To Bay Blvd | 33755 | (727) 464-7777 |
| Davie | 14190 W State Road 84 | 33325 | (954) 837-4000 |
| Pompano Beach | 2712 W Atlantic Blvd | 33069 | (954) 497-1570 |
| Lauderhill | 7217 W Oakland Park Blvd | 33313 | (954) 497-1570 |
| Opa Locka | 12601 NW 42nd Ave | 33054 | (305) 229-6333 |
| Aventura | 15555 Biscayne Blvd | 33160 | (305) 229-6333 |
| Kissimmee | 2892 N Orange Blossom Trl | 34744 | (407) 846-5230 |
| Inverness | 210 N Apopka Ave Ste 100 | 34450 | (352) 341-6500 |
| Marathon | 3881 Ocean Ter | 33050 | (305) 289-2420 |
| Marathon | 3103 Overseas Hwy | 33050 | (305) 289-2430 |
| Fort Myers | 10041 Daniels Pkwy | 33913 | (239) 533-6000 |
| Brooksville | 17028 Ayers Rd | 34604 | (352) 797-5737 |
| Clewiston | 1100 S Olympia St Ste 300 | 33440 | (863) 983-1460 |
| Starke | 2300 N Temple Ave | 32091 | (904) 964-7904 |
| Cross City | 16106 SE Highway 19 | 32628 | (352) 498-1374 |
| Okeechobee | 1857 Us Highway 441 SE | 34974 | (863) 462-5225 |
| North Port | 4970 City Hall Blvd | 34286 | (941) 861-8300 |
| Venice | 4000 Tamiami Trl S | 34293 | (941) 861-8300 |
| Punta Gorda | 410 Taylor St | 33950 | (941) 743-1350 |
| Largo | 13025 Starkey Rd | 33773 | (727) 464-7777 |
| Ruskin | 3002 E College Ave | 33570 | (813) 635-5200 |
| Port Charlotte | 18500 Murdock Cir | 33948 | (941) 743-1350 |
| Immokalee | 106 S 1st St Ste 1 | 34142 | (239) 657-2054 |
| Clearwater | 29399 US Highway 19 N Ste 100 | 33761 | (727) 464-7777 |
| Tarpon Springs | 743 S Pinellas Ave | 34689 | (727) 464-7777 |
| Arcadia | 201 E Oak St Ste 101 | 34266 | (863) 993-4861 |
| Bonita Springs | 25300 Bernwood Dr Ste 3 | 34135 | (239) 533-6000 |
| Wauchula | 110 W Oak St Suite 102 | 33873 | (863) 773-6365 |
| Deland | 1551 E International Speedway Blvd | 32724 | (386) 736-5350 |
| Pensacola | 100 Stumpfield Rd | 32503 | (850) 494-5838 |
| Tampa | 2211 N Falkenburg Rd | 33619 | (813) 635-5200 |
| Captiva | 16660 Captiva Dr | 33924 | (239) 395-1938 |
| Tampa | 4712 N Armenia Ave Ste 100 | 33603 | (813) 872-9313 |
| Marco Island | 1040 Winterberry Dr | 34145 | (239) 394-6986 |
| Coral Springs | 1160 N University Dr | 33071 | (954) 765-4697 |
| Crescent City | 115 N Summit St | 32112 | (386) 698-3088 |
| North Miami | 12935 W Dixie Hwy | 33161 | (305) 891-6424 |
| Neptune Beach | 1505 Atlantic Blvd | 32266 | (904) 630-1916 |
| Fort Myers | 15680 Pine Ridge Rd | 33908 | (239) 533-6000 |
| Miami | 13710K SW 56th St | 33175 | (305) 387-0038 |
| Stuart | 100 SE Ocean Blvd | 34994 | (772) 288-5542 |
| Bunnell | 1769 E Moody Blvd | 32110 | (386) 313-4160 |
| Crystal River | 1540 N Meadowcrest Blvd | 34429 | (352) 341-6500 |
| Ocala | 503 SE 25th Ave | 34471 | (352) 368-8200 |
| Panama City Beach | 17109 Panama City Beach Pkwy | 32413 | (850) 233-5035 |
| Deland | 123 W Indiana Ave | 32720 | (386) 736-5936 |
| Royal Palm Beach | 200 Civic Center Way | 33411 | (561) 355-2264 |
| Hialeah | 20 W 49th St | 33012 | (305) 822-4752 |
| Naples | 12668 Tamiami Trl E | 34113 | (239) 417-3036 |
| Vero Beach | 2000 16th Ave | 32960 | (772) 770-5185 |
| Orlando | 2110 W Colonial Dr | 32804 | (407) 836-4145 |
| Chiefland | 226 N Main St | 32626 | (352) 493-4646 |
| Pensacola | 213 Palafox Pl | 32502 | (850) 438-6500 |
| Gainesville | 220 S Main St | 32601 | (352) 374-3609 |
| Miami | 1375 NW 36th St | 33142 | (305) 638-8000 |
| Apopka | 1578 W Orange Blossom Trl | 32712 | (407) 836-4145 |
| Miami | 2517 SW 8th St | 33135 | (305) 642-5041 |
| Jacksonville | 231 E Forsyth St | 32202 | (904) 630-1916 |
| West Palm Beach | 301 N Olive Ave | 33401 | (561) 355-2264 |
| Davie | 15800 Rick Case Honda Way | 33331 | (954) 745-8445 |
| Marathon | 3101 Overseas Hwy | 33050 | (305) 289-6034 |
| Hilliard | 15885 County Road 108 | 32046 | (904) 845-3930 |
| Lehigh Acres | 3114 Lee Blvd | 33971 | (239) 533-6000 |
| Tallahassee | 2810 Sharer Rd Ste 17 | 32312 | (850) 577-4100 |
| Miami | 3636 NW 36th St | 33142 | (305) 634-2626 |
| Palm Beach Gardens | 3185 Pga Blvd | 33410 | (561) 355-2264 |
| Okeechobee | 307 NW 5th Ave Rm B | 34972 | (863) 763-3421 |
| Jasper | 207 1st St NE Rm 104 | 32052 | (386) 792-1284 |
| Belle Glade | 38844 State Road 80 | 33430 | (561) 996-4843 |
| Orange City | 2744 Enterprise Rd | 32763 | (386) 736-5936 |
| Jacksonville | 6672 Commonwealth Ave | 32254 | (904) 630-1916 |
| Port Saint Lucie | 250 NW Country Club Dr | 34986 | (772) 871-7200 |
| Jay | 5259 Booker Ln | 32565 | (850) 983-1800 |
| Milton | 6865 Caroline St | 32570 | (850) 981-5657 |
| Lake Worth | 3551 S Military Trl | 33463 | (561) 355-2264 |
| Santa Rosa Beach | 31 Coastal Centre Blvd Ste 700 | 32459 | (850) 267-3001 |
| Dade City | 38053 Live Oak Ave | 33523 | (352) 521-4274 |
| Tallahassee | 3477 S Monroe St | 32301 | (850) 488-4735 |
| Miami | 313 NE 167th St | 33162 | (305) 770-1900 |
| Titusville | 400 South St | 32780 | (321) 637-5413 |
| Tampa | 800 E Twiggs St | 33602 | (813) 276-8100 |
| Sebring | 540 S Commerce Ave | 33870 | (863) 402-6685 |
| Delray Beach | 501 S Congress Ave | 33445 | (561) 355-2264 |
| Naples | 8771 Tamiami Trl N | 34108 | (239) 514-7051 |
| Miami | 5747 NW 7th St | 33126 | (305) 264-2545 |
| Tallahassee | 3425 Thomasville Rd Unit 19 | 32309 | (850) 488-4735 |
| Miami Beach | 800 71st St | 33141 | (305) 868-3277 |
| Marianna | 4445 Lafayette St Rm 107 | 32446 | (850) 482-9653 |
| Saint Johns | 725 Flora Branch Blvd | 32259 | (904) 209-2250 |
| Miami | 8530 Bird Rd | 33155 | (305) 226-1231 |
| Altamonte Springs | 995 N State Road 434 | 32714 | (407) 665-1000 |
| Naples | 50 Wilson Blvd S | 34117 | (239) 348-1011 |
| Niceville | 506 Highway 85 N | 32578 | (850) 651-7300 |
| Tampa | 601 E Kennedy Blvd | 33602 | (813) 635-5200 |
| Orlando | 8185 Lee Vista Blvd | 32829 | (407) 836-4145 |
| Saint Petersburg | 1067 62nd Ave S | 33705 | (727) 464-7777 |
| New Smyrna Beach | 111 Canal St | 32168 | (386) 238-3140 |
| Miami | 10930 W Flagler St Ste 308 | 33174 | (305) 221-5860 |
| Avon Park | 116 E Main St | 33825 | (863) 402-6685 |
| Jacksonville | 12220 Atlantic Blvd Ste 102 | 32225 | (904) 630-1916 |
| Homestead | 30708 S Federal Hwy | 33030 | (305) 247-2731 |
| Chipley | 1293 Jackson Ave | 32428 | (850) 638-6289 |
| Shalimar | 1250 N Eglin Pkwy | 32579 | (850) 651-7226 |
| Summerfield | 17860 SE 109th Ave Ste 602 | 34491 | (352) 368-8200 |
| Vero Beach | 1800 27th St Building B | 32960 | (772) 226-1338 |
| Milton | 6495 Caroline St | 32570 | (850) 983-1800 |
| North Fort Myers | 15201 N Cleveland Ave | 33903 | (239) 533-6000 |
| Saint Petersburg | 1800 66th St N | 33710 | (727) 464-7777 |
| Saint Augustine | 6658 US Highway 1 S | 32086 | (904) 209-2250 |
| Port Saint Lucie | 1664 SE Walton Rd | 34952 | (772) 462-1650 |
| Plantation | 1800 NW 66th Ave Ste 101 | 33313 | (954) 765-4697 |
| Miami | 804 NW 183rd St | 33169 | (305) 652-8800 |
| Vero Beach | 1860 82nd Ave Ste 102 | 32966 | (772) 226-1338 |
| Fort Pierce | 201 S Indian River Dr | 34950 | (772) 871-7200 |
| Cutler Bay | 18655 S Dixie Hwy | 33157 | (305) 252-1001 |
| Deerfield Beach | 2265A W Hillsboro Blvd | 33442 | (954) 765-4697 |
| Pembroke Pines | 294 S Flamingo Rd | 33027 | (954) 765-4697 |
| Pensacola | 190 W Government St Rm 234 | 32502 | (850) 595-4360 |
| Okeechobee | 304 NW 2nd St Rm 107 | 34972 | (863) 763-1639 |
| Bushnell | 220 E McCollum Ave | 33513 | (352) 569-6740 |
| Land O Lakes | 4111 Land O Lakes Blvd | 34639 | (813) 235-6020 |
| Keystone Heights | 4150 SE State Road 21 # 105 | 32656 | (904) 368-3950 |
| Hastings | 6195 S Main St | 32145 | (904) 209-2250 |
| Englewood | 6868 San Casa Dr | 34224 | (941) 681-3710 |
| Lake Wales | 658 State Road 60 W | 33853 | (863) 534-4700 |
| Port Saint Joe | 1000 Cecil G Costin Sr Blvd | 32456 | (850) 229-6116 |
| Fort Lauderdale | 1113 N Federal Hwy | 33304 | (954) 765-4697 |
| Jacksonville | 1013124 San Jose Blvd | 32257 | (904) 630-1916 |
| Orlando | 11967 E Colonial Dr | 32826 | (407) 836-4145 |
| Lake Placid | 11 N Pine Ave | 33852 | (863) 402-6685 |
| Interlachen | 1114 State Road 20 Ste 5 | 32148 | (386) 684-4649 |
| Sanford | 1101 E 1st St | 32771 | (407) 665-1000 |
| Perry | 108 N Jefferson St Ste 32347 | 32347 | (850) 838-3517 |
| Winter Garden | 14035 W Colonial Dr | 34787 | (407) 836-4145 |
| High Springs | 110 NW 1st Ave | 32643 | (386) 454-1416 |
| Miami | 11035 NW 27th Ave | 33167 | (305) 769-2700 |
| Monticello | 1155 W Washington St | 32344 | (850) 342-0147 |
| Coral Gables | 1418 Ponce De Leon Blvd | 33134 | (305) 443-8065 |
| Madison | 112 SW Pinckney St Room 102 | 32340 | (850) 973-6136 |
| Carrabelle | 1647 Highway 98 E | 32322 | (850) 653-9323 |
| Key West | 1200 Truman Ave Ste 101 | 33040 | (305) 295-5010 |
| Ocala | 110 NW 1st Ave | 34475 | (352) 671-5599 |
| Cape Coral | 1039 SE 9th Ave Ste 102 | 33990 | (239) 533-6000 |
| Oviedo | 1490 Swanson Dr Ste 100 | 32765 | (407) 665-1000 |
| Trenton | 112 S Main St | 32693 | (352) 463-3170 |
| Port Saint Joe | 200 Second St | 32456 | (850) 639-2655 |
| Sebastian | 11610 US Highway 1 | 32958 | (772) 226-1338 |
| Miami | 10201 Hammocks Blvd Ste H108 | 33196 | (305) 388-2942 |
| Saint Cloud | 1300 9th St Suite 101b | 34769 | (407) 742-4000 |
| Palatka | 312 Oak St | 32177 | (386) 329-0282 |
| Bristol | 10818 NW State Road 20 | 32321 | (850) 643-2442 |
| Mayo | 120 W Main St | 32066 | (386) 294-1961 |
| Jacksonville | 12961 N Main St Ste 210 | 32218 | (904) 630-1916 |
| Brooksville | 20 N Main St Rm 112 | 34601 | (352) 754-4180 |
| Lantana | 1299 Lantana Rd | 33462 | (561) 540-1191 |
| Palatka | 410 Saint Johns Ave | 32177 | (386) 329-0350 |
| Melbourne | 1515 Sarno Rd | 32935 | (321) 255-4410 |
| Hobe Sound | 11734 SE Federal Hwy | 33455 | (772) 288-5600 |
| Fort Myers | 1825 Hendry St | 33901 | (239) 533-5000 |
| Miami | 1351 NW 12th St Ste 124 | 33125 | (305) 275-1111 |
| Tallahassee | 1210G Capital Cir SE | 32301 | (850) 488-4735 |
| Dunnellon | 19995 SW 86th St Ste 2 | 34431 | (352) 368-8200 |
| Fort White | 118 SW Wilson Springs Rd | 32038 | (386) 497-2456 |
| Miami | 140 W Flagler St Ste 102 | 33130 | (305) 375-4558 |
| Labelle | 25 E Hickpochee Ave | 33935 | (863) 675-5280 |
| Dade City | 14236 6th St | 33523 | (352) 521-4360 |
| Kissimmee | 12 S Clyde Ave | 34741 | (407) 742-3566 |
| Delray Beach | 200 W Atlantic Ave | 33444 | (561) 274-1530 |
| Orange Park | 1518 Park Ave | 32073 | (904) 269-1400 |
| Tampa | 1515 N West Shore Blvd | 33607 | (813) 635-5200 |
| West Palm Beach | 205 N Dixie Hwy | 33401 | (561) 355-2994 |
| Molino | 6440 Highway 95A N Ste A | 32577 | (850) 438-6500 |
| Lake City | 135 NE Hernando Ave Ste 125 | 32055 | (386) 758-1077 |
| Deltona | 2772 Elkcam Blvd | 32738 | (386) 532-0133 |
| Chipley | 1331 South Blvd Ste 101 | 32428 | (850) 638-6275 |
| Cross City | 214 NE Highway 351 Ste A | 32628 | (352) 498-1213 |
| Orlando | 301 S Rosalind Ave | 32801 | (407) 836-4145 |
| Fort Myers | 2480 Thompson St | 33901 | (239) 533-6000 |
| Hialeah | 8404 NW 103rd St Ste 1 | 33016 | (305) 231-5700 |
| Macclenny | 339 E Macclenny Ave | 32063 | (904) 259-3686 |
| Daytona Beach | 250 N Beach St Ste 101 | 32114 | (386) 254-4610 |
| Kissimmee | 2539 Boggy Creek Rd | 34744 | (407) 742-4000 |
| Plant City | 1834 James L Redman Pkwy | 33563 | (813) 635-5200 |
| Sarasota | 101 S Washington Blvd | 34236 | (941) 861-8300 |
| Keystone Heights | 275 S Lawrence Blvd | 32656 | (352) 473-4899 |
| Lake Mary | 845 Primera Blvd | 32746 | (407) 665-1000 |
| Macclenny | 32 N 5th St | 32063 | (904) 259-6880 |
| Jacksonville | 3520 Blanding Blvd | 32210 | (904) 630-1916 |
| Kissimmee | 2924 Pleasant Hill Rd | 34746 | (407) 742-4000 |
| Indian Harbour Beach | 240 E Eau Gallie Blvd | 32937 | (321) 779-4009 |
| Bartow | 430 E Main St | 33830 | (863) 534-4700 |
| Naples | 3291 Tamiami Trl E | 34112 | (239) 252-8177 |
| Panama City | 300 E 4th St | 32401 | (850) 747-5134 |
| Crawfordville | 3056 Crawfordville Hwy | 32327 | (850) 926-0311 |
| Stuart | 3485 SE Willoughby Blvd | 34994 | (772) 288-5600 |
| Callahan | 450077 State Road 200 Ste 13 | 32011 | (904) 491-7400 |